1 –
YOUNG PEOPLE FIRST
Whether it's previously furloughed workers, young people on development and training programmes, or potential new hires, MtW encourages organisations to prioritise young people as part of their ongoing strategy. Young people inject fresh energy, different perspectives, and can be cost effective to hire with the support of government-backed incentives. They also help to develop and motivate existing staff members through mentorship.
2 –
BE ACCESSIBLE, GO DIGITAL
 MtW urges organisations to find creative ways to continue training, development and work experience for young people online, and we can offer advice and best practice on how to make this transition. We ask employers to continue to be aware of digital poverty and to think 'outside the box' regarding how to meaningfully engage with these young people so they are never left behind. We urge organisations to continue online work experience for young people in the short term, but in the long term, we want to focus on getting young people back into the physical workplace so they can gain those vital skills.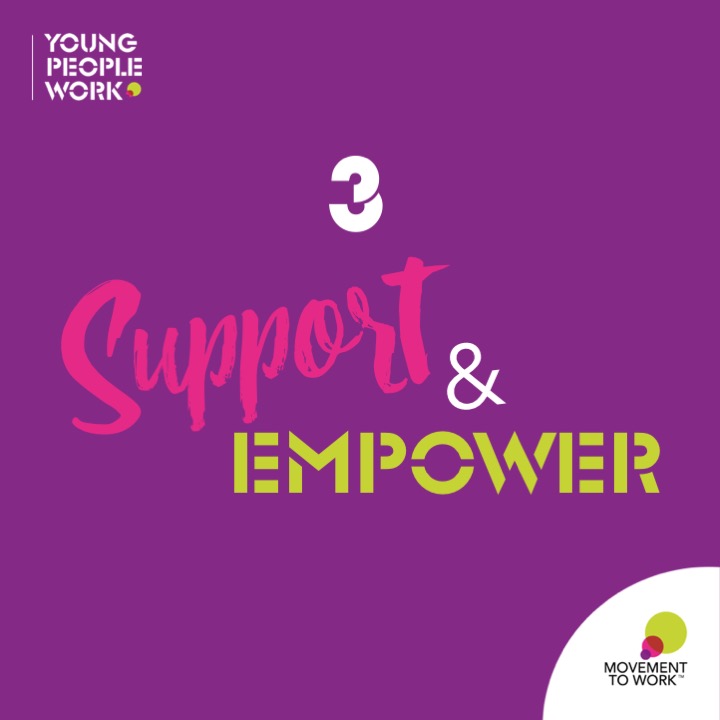 3 –
SUPPORT AND EMPOWER
COVID-19 has been a shock to the system, presenting us all with new professional and personal challenges to our mental health and wellbeing. We need to be acutely aware of this as we move forward, ensuring safety and support is paramount. Young people are amongst the most likely to become increasingly disillusioned and fall into negative behaviour patterns. We must help young people to feel a part of society by giving them new opportunities to improve their prospects, putting 'money in their pockets', and enabling a new wave of active consumers with bright futures ahead of them.
Kickstart – In July 2020, the government committed up to £2.1bn for Great Britain, to fund the direct creation of 300,000 high quality 'Kickstart' jobs for 18-24-year-olds. Since then, Movement to Work (MTW) has been working closely with the Department for Work and Pensions (DWP) to support the design and implementation of the new scheme. We want to help as many employers as possible access Kickstart, and ensure these jobs offer young people brilliant experiences in the workplace. Check out our new Kickstart page HERE and get in touch with a member of the team today to find out how you can get involved. 
MtW Youth Ambassador programme – MtW Youth Ambassador programme – This exciting programme was launched during Summer 2020 and provides the essential youth voice of Movement to Work helping to inspire employers, fellow young people, and society at large to overcome barriers to work. For young people and by young people, the dedicated Instagram account is HERE and more information on how to join can be found here. Find out more HERE
MtW FREE online skills learning – Movement to Work offers two free online learning programmes for young people to develop their employability skills. These programmes are free to join, easily accessible and can be used at any time. Start now HERE
MtW Impact Map – Made in partnership with JP Morgan Chase's Force for Good programme, this tool helps you to map your impact whilst tackling youth unemployment. Whether it's by finding out where the most young people in need are, where potential partners are, or where fellow MtW members are located, The Movement to Work Impact Map helps connect the dots. The Movement to Work Impact Map enables effective learning, planning, and collaboration in order to maximise strategic impact regionally and nationwide.
MtW & Get My First Job FREE ads – Previously Movement to Work could only promote unpaid opportunities through GetMyFirstJob, however, due to recent challenges presented by COVID-19, paid opportunities are now able to be advertised FREE of charge for Movement to Work members. If your business or organisation have any suitable opportunities please do not hesitate to get in touch: info@movementtowork.com. 
We're hiring – MtW is putting its money where its mouth is and developing its very own work placement aimed at disadvantaged young people, set to launch at MtW HQ in the next 12-months. We're investing in youth talent and we hope you will too!
2
BE ACCESSIBLE, GO DIGITAL
MtW Virtual WEx toolkit –  Created in collaboration with Accenture, this FREE toolkit provides guidance on creating a virtual Movement To Work programme. This includes the information, best practice and tools to support MTW partners to kickstart their planning and consider what a virtual programme could look like. It explores possible tools, techniques and ideas as well as identifying key considerations to take into account when creating a virtual programme.
Download the FREE MtW Virtual Work Experience toolkit HERE
Movement to Work events – ONLINE! Since March 2020, MtW has been running a whole host of exciting events online for our network – promoting best practice and thought leadership in the space of youth employment and diversity and inclusion. To find out when the next event is scheduled or to register interest, please contact info@movementtowork.com.
MtW FREE online skills learning – Movement to Work offers two free online learning programmes for young people to develop their employability skills. These programmes are free to join, easily accessible and can be used at any time. Start now HERE
Influence and Inspire – We are working with our network to push for continued Government-led positive action, helping to ensure sufficient support is there for young people and vital Youth and Employment Services. Movement to Work has also joined with Impetus, Youth Futures Foundation, Youth Employment UK, the Institute for Employment Studies and The Prince's Trust, who recently formed the Youth Employment Group (YEG) to help drive the UK's response to challenges posed by COVID-19. To find out more see HERE. 
Be in the know – we are in a unique position as our community spans businesses, charities, youth outreach and training providers. We're committed to collating and sharing the latest news, updates, and research helping to provide advice, resources and insights. Find out more and promote your updates on our News Blog HERE. We have also been compiling the latest research related to youth employment HERE. Have something to share? Drop us a line info@movementtowork.com
MtW resources update – MtW has developed a new Employer Guide and Welcome Pack to ensure placements for young people go as smoothly as possible – all for free. To get your copy contact info@movementtowork.com
To existing Movement to work members
Back the campaign – download the campaign COMMS PACK and share on your channels
Use our three pillars to guide and inspire your COVID-19 response strategy
Attend our virtual events and use our latest digital resources
Non-members or potential members
Back the campaign – download the campaign COMMS PACK and share on your channels
Use our three pillars to guide and inspire your COVID-19 response strategy
JOIN MOVEMENT TO WORK!

Completely FREE to join – no cost for you or your organisation
Receive bespoke advice from industry experts
Access additional funding with experienced guidance
Unlock diverse talent and boost CSR

Be part of a network sharing best practice and thought leadership
Attend our virtual events and use our latest digital resources