As part of Accenture's commitment to Movement to Work, they ran their first-ever virtual work experience programme in the UK – Virtual Tech Taster 2020! 15 young unemployed people were brought together with 9 faculty members, 5 team mentors and 9 apprentice buddies. Together they embarked on a week of Design Thinking workshops, coding, mock interviews, teamwork, employability, resilience, virtual team presentations and more using a range of innovative tools.
The current unprecedented situation accelerated the need to create virtual work experience programmes so that young people can continue to benefit from skilling and mentoring remotely and do not fall further behind. By virtualising the programmes, we can also help more young people living in remote regions access these high-quality programmes and help to kick start their careers.
After only 5 weeks of preparation, the Virtual Tech Taster was run between the 18th-22nd May 2020. The programme itself was designed and organised at pace to ensure that the candidates could participate in the assessment centres for the September 2020 intake of Accenture's Technology Degree apprenticeships in Newcastle and Edinburgh. Candidates based in these locations have now been invited to attend these assessment centres.
15 young unemployed people joined from the surrounding areas of three of our office locations – London, Newcastle and Edinburgh. The programme was delivered via MS Teams and the curriculum was designed as short daily sessions to ensure that they were manageable and digestible virtually. These sessions were split between facilitated and independent sessions to keep the week varied and engaging. To ensure that the programme was digitally inclusive, Accenture provided the participants with a laptop, WIFI dongle and headset for the week and provided technology set-up guidance in advance of the programme itself.
Sessions included: coding, creative problem-solving using design thinking, presentation skills and putting those to the test with final team presentations, a virtual tour of the Accenture's London Innovation Centre as well as employability information and support with CVs and interviews. The participants were supported through the programme by a wide network of people including the programme faculty, mentors and Accenture apprentice buddies.
In design and development of the programme, the Accenture team spent time exploring different options for virtual programmes, researching software/hardware and conducting user research. The curriculum and delivery mechanisms were designed and tested to ensure an innovative programme that could be delivered effectively through a virtual format. The success of the programme is exemplified by 100% of participants both completing the programme and saying that they would recommend it!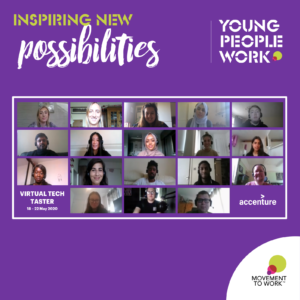 Quotes from participants include:
"…to be a part of it, even for just one virtual week feels amazing.…you have made it work so well…I know future participants for this scheme will definitely enjoy it!… this journey has been super insightful and self-reflective."
"It was amazing to be part of Accenture's very first Virtual Tech Taster Event! I was able to learn Python and JavaScript, 2 languages I've been keen on learning. Not only did I gain valuable technical knowledge and skills, but I was also able to polish up my soft skills! From CV tips to an excellent talk from Amit Rawal about building resilience and confidence, which I have struggled with."
"Thank you so much for such a valuable and insightful week. It was such a pleasure to be a part of!"
The Accenture team have also been sharing their experience with other Movement to Work employers throughout the journey and are now collating insights and a framework of best practice that will be shared with other employers and charity partners to use to design their own virtual programmes. We are excited to see future virtual work experience programmes delivered at Accenture and beyond.
Relevant contact details: To find out more contact sarah.k.patton@accenture.com